Winter is here and it seems like Jon Snow wasn't wrong to see it coming after all! As the first winter breeze comes along we start to reminisce on all the winter vibes and the coziness and warmness it brings with it. Here comes a list of winter comfort food, because what's better than feeling warm on the inside even when it's damn freezing outside?
1-Lentil Soup
An Egyptian classic winter unbeatable cuisine that will definitely warm your heart. Let alone it's great taste and easy recipe; lentil soup is rich with nutritive values that won't only keep you warm but will also boost your immune system and help you with winter colds. It is also vegan friendly which gives it a great advantage.
2-Hummus El Sham
Just as the first winter windy days unravel, you start seeing Hummus el sham carts everywhere around the streets of Egypt. There is no doubt there is a magic behind how much Egyptians love Hummus el Sham so much. Chickpeas with tomatoes, lemon and cumin is a match made in heaven!
3-Hot Chocolate
The international drink for winter days' company! With the winter chills around, you need something that would keep both your hands and your heart warm, and there is nothing that can do a better job at that than a steamy cup of hot chocolate. They are guaranteed shots of happiness!
4-Sahlab
At a café with a group of people looking for a hot drink as a warm company during the rain; some are going to order hot chocolate whereas others who are more into the vanilla fandom end up ordering Sahlab; which is known to be a magical drink rich with milk cream and covered in nuts, guaranteed to keep you full, warm and satisfied.
5-Pizza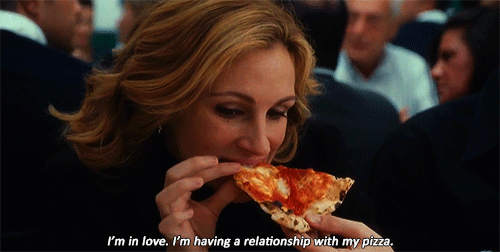 It has been confirmed, there is no better way to spend a winter night in than being curled into a blanket with a cheesy pizza and your favorite movie/show/playlist as your company. Those are the kind of breaks we need every once in a while to restore our energy in during cold winter nights. Also, pizza doesn't have a season.
6-Ice cream, YES you've read that right
Undoubtedly, feeling cold asks for the feeling of warmth but does it have to be literal warmth, can't it be the warmth of happiness that having a good ice cream can give you? Every season is an ice cream season and anyone who doesn't think so only makes ice cream queues shorter in winter which is still an advantage for us. I mean, what is better than peacefully enjoying your ice cream without it melting in the first 5 minutes?
The list of comfort food you can have in winter is infinite and that is because there are no rules when it comes to the food you enjoy. Whatever you enjoy will be enough to make you feel warm inside, whether it is labeled as winter or summer food. At the end of the day, this is very subjective and totally depends on your mood, company and cravings.
So enjoy your food and drinks whichever season it is and make sure to tell us what your favorite food or drink usually is during winter season in the comments below!
Comments