Over the last week, the internet hasn't been able to stop talking about A Human – an aspiring brand that positions itself as the 'fashion brand from the future where self-expression isn't defined by what you put on your body, but by how you change your body.'
It all started when Chrissy Teigen posted photos on her Instagram, showing off "Human Feathers", a piece designed by the A.Human crew exclusively for her.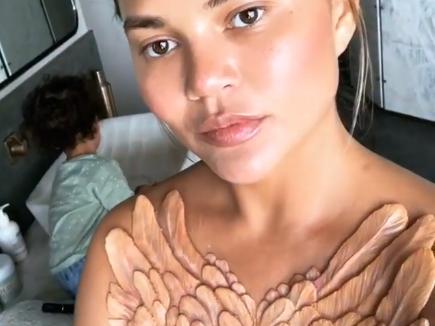 The post stirred an online controversy, with the comments being divided between those who found the accessory impressive and bold, and those who were turned off, calling it unsightly and downright revolting. Chrissy wasn't the only one to show off her exclusive A.Human designs; other celebrities like Kim Kardashian and Tan France also took to Instagram to show their own 'sneak peak' gifts.
Tan France received the Tudor, the 'living ruffled collar', a piece from their upcoming SS19 collection that they promised will be on display throughout #NewYorkFashionWeek.
Kim Kardashian boasted her own A.Human choker that reportedly glows and beats to the rhythm of her heartbeat.
#ahuman @ahuman pic.twitter.com/8pbdQi78kP

— Kim Kardashian West (@KimKardashian) August 27, 2018
The above pieces are all temporary, but that's not the end goal of A.Human. Simon Huck – Founder of Society of Spectacle, the people behind A.Human – spoke about how body modifications are generally seen as a taboo, and expressed their desire to give the idea a more positive image through this project. A.Human invites everyone to think about their own definition of how they use their appearance to express themselves. He believes that the fashion of the future is less about just buying things to wear on your body, and more about focusing on the body itself.
"It was important to root this experience in optimism while provoking our guests to think about a potential future of fashion, and by doing so, inviting them to question their definitions of self-expression." – Simon Huck, via the Independent. 

More from the Collection via A.Human (Luke Absolon)
He adds that the experiment was born out of wanting to think of a more optimistic and exciting future instead of the current direction in media that paints the future as dark or dystopian. He imagines a future in which tattoos and body ink are no more, and that DNA and implants are what's common and encouraged.
If you happen to be in the New York City from 5th to 30th of September and looking for something to do, you could visit the grand opening of the A.Human flagship store. With tickets that start from $40, A.Human invites you to attend the exhibition/life performance, and try out the collection for yourself. Check out their website for full details. You can even try out your very own modification by customizing your 'heart' on their home page!
As of now, Simon Huck hasn't officially launched his brand yet, and the products aren't up for sale. It is still too early to tell whether this will be a one-time celebrity trend, or something that has an actual, commercial future in our day-to-day lives.
So, what do you think? Repulsive or Impressive? Would you ever try the temporary mods. out? Would you even consider going all out for the implants? Let us know in the comments below!
Comments