Ever since the character appeared in DC Comics' debut issue of Batman back in 1940, actors competed for the role of the green-haired psychopath, whose sadistic sense of humor and criminal master mind made him the greatest super-villain in Gotham (and the entire comics if you ask me) and the perfect arch nemesis to Batman; it's the Joker!
From Frank Sinatra and Robin Williams to Sam Rockwell and Adrien Brody, countless have tried to snatch the opportunity to act as Joker for the silver screen but only three had accomplished that, at least until yesterday. (Cesar Romero doesn't really count, does he?) In this article, you'll read all about my frustrations with DC Extended Universe (DCEU)'s version of the insane clown and all the details about the new origin film.
---
Part one: The Suicide Squad disappointment.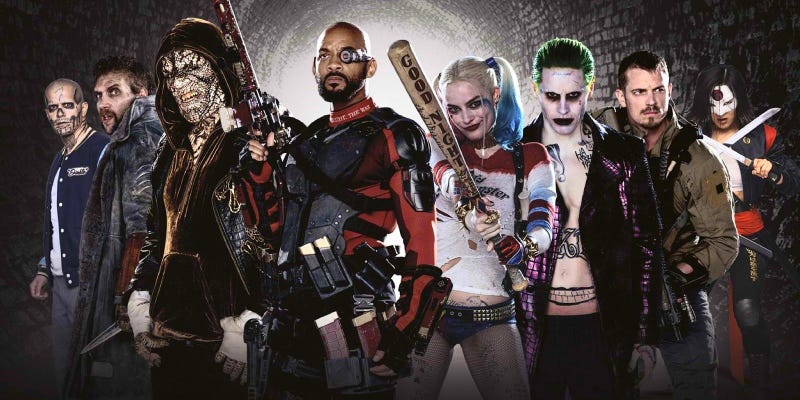 When Suicide Squad was first announced back in 2014, I was a bit skeptical about Jared Leto playing the Joker, mostly because I still thought of the late Heath Ledger as the ultimate Joker and that there was no way Leto would've ever been able to surpass his predecessor's Oscar-winning performance in Christopher Nolan's The Dark Knight (2008) nor Jack Nicholson's iconic one in Tim Burton's Batman (1989).
However, it was also in part due to the fact that I believed Leto was casted for his newly found marketability and popularity after his own Oscar win for Jean-Marc Vallée's Dallas Buyers Club (2013), not his spectacular acting established in several films including the critically acclaimed science fiction film Mr. Nobody (2009) written and directed by Jaco Van Dormael.

Despite those doubts, I still believed Leto would deliver, at the very least, a different Joker than his fellow actors did previously. His reputation for being a method actor managed to convince me that his approach to the role could perhaps mean discovering new and unfamiliar sides to the already well known character.
I couldn't help but get a tad more excited as news of the film exploring the relationship between Joker and his accomplice/lover Harley Quinn surfaced on the internet. After the trailers were released, I found myself looking forward to Margot Robbie's interpretation of Harley since I'd discovered it's the character's first proper appearance in a feature film. (Harley Quinn was a main antagonist in Batman: The Animated Series (1992-1995), voiced by Arleen Sorkin alongside Mark Hamill as Joker and both actors reprised their roles in the continuation The New Batman Adventures (1997-1999))
If I remember correctly, the thought of Robbie and Leto not delivering seemed almost impossible to everyone, especially with all the promotion and social media hype surrounding the on-screen couple. To add to our anticipation, the entire official soundtrack album was an immediate hit with number one singles including Twenty One Pilots' Heathens, Kehlani's Gangsta and Sucker for Pain by a collaboration of artists. For rockers like me, a movie featuring Queen's Bohemian Rhapsody could never be anywhere near "okay", let alone be as horrendous as it turned out to be.
Suicide Squad (2016) was an absolute mess, so underwhelming that its marketing propaganda did it more harm than good by raising our expectations only to be so let down. The plot, aside from the wonderful first act, is simply terrible and unapologetically predictable; the cast apart from the stellar Margot Robbie were shamefully wasted.
 Let's focus on the Joker though……
I didn't really love Jared Leto's Joker, but I didn't hate it either; it was just "meh". Excessively over the top was my impression of the character in the film and nothing else. For me, the performance adding nothing new to what I had been accustomed to and it bordered on creepy, not the good Jack Nicholson kind either. I think my biggest problem with this joker interpretation is his laugh; it is possible that the director David Ayer and Leto were going for a disturbing psychopathic one but they somehow ended up doing a dying rat impression.
Although I have to say that the character was given little screen time in the first place considering he wasn't even the main villain, maybe a more Harley/Joker centered film would've helped Leto develop a more distinctive portrayal rather than just trying to combine a Nicholson's gangster Joker and Ledger's psychopath and failing quite badly. I mean, if my love for Leto himself and his band Thirty Seconds to Mars did not succeed in making me like this, then it's basically hopeless.
---
Part two: A New Hope
Now with the failure of Leto's Joker, fans began to wonder about the fate of the character and whether a recast was in order. Some fans outright said that they'd rather no one portray Joker at all, as anyone who comes after Ledger would always live in his shadow and would never satisfy both the film and the comic fans the way he did.
Rumors began swarming around on social media, rumors suggesting a recast, but they were soon crushed by Warner Bros (WB) announced that a standalone Joker movie is to be expected as well as a Harley Quinn spin off starring Jared Leto and and Margot Robbie respectively.
Earlier this year though, word got around that Academy award winner Martin Scorsese was casting for yet another Joker movie and he reportedly had three time Academy award nominee Joaquin Phoenix in mind.  It was only yesterday that The Hollywood Reporter confirmed that Phoenix will indeed be playing the character in a new origin film, to be directed by Todd Philips rather than Scorsese who will act as executive producer. (Philips is mostly known for the Hangover Trilogy (2009-2013), Due Date (2010) and War Dogs (2016))

Here's what we know for certain so far….
The film, co-written by Scott Silver and its director Philips, is described by the studio as being an "exploration of a man disregarded by society [that] is not only a gritty character study, but also a broader cautionary tale." While there is no official date set for the release, it is expected that the shooting will begin in September this year. Unlike most of the superhero movies adapted from comic books, this production only has a 55 million dollar budget and is expected to be "darker and more experimental in tone and content"
Reactions to this news varied from large enthusiasm to annoyance; numerous fans showed their support for this step by WB and expressed their relief and others were just fed up with all these Joker films, describing the upcoming movie as an unnecessary confusion since the Jared Leto's Joker is still going to make several more appearances in the DCEU.
My Own Personal Thoughts….
I, like the majority of viewers, was ecstatic to read about Phoenix's involvement with this project. Not only is he a well-read comic book fan and reader himself, but he's also one of the most talented and critically acclaimed actors of his generation with films Gladiator (2000), Walk The Line (2005), The Master (2012), Her (2013) and most recently You Were Never Really Here (2017), for which he won best actor in that year's Cannes Film Festival, under his belt.
The fact that the film is a low budget one means it'll focus more on the plot and character and that's exactly what we as audience needs after the previous unsuccessful portrayal of the Joker. On the other hand, I'm not sure I should put my hopes up in case it turns out to be another unexpected flop.
In other news, if you're still wondering whose Joker I love the most, it's Mark Hamill's animated version. I honestly still can't believe how underrated it is compared to the live-action ones; his rendition of the joker is more mischievous and full of joyful, maniacal and evil laughs that have come to define the essence of the persona.
So…whose Joker interpretation is your favorite and what're your thoughts on Joaquin Phoenix as the clown prince of crime? Was there anyone else you would've liked to see try his luck at the character? Tell us in the comments!

Comments